UA NOTES
for AI speakers, staff
Urgent Action Program Office
P.O.Box 1270
Nederland CO 80466-1270
email: sharriso@aiusa.org
November 1998 - May 1999
Below is an informal collection of UA-related stories with a positive slant. For the horrible details, you can read the Urgent Actions and UA Newsletters themselves. We are constantly asked for UA "success stories", thank-you quotes from prisoners, and other unique stories reflecting not only prisoners' situations but AI volunteers' activism. We hope that some of the information found in UA Notes might be used to compliment an AI presentation, either on paper or a talk from behind a podium. We are distributing this to regional office directors, our executive director, the development staff, and to anyone who asks to receive it. You are welcome to copy any part of UA Notes for others and if you would like us to put anyone else within AIUSA on our mail list just let us know. Email Scott at sharriso@aiusa.org if you would like a text version of this paper emailed to you. We issue UA Notes whenever we have collected enough good news from Urgent Actions to fill these pages.
best,
Scott Harrison and Ellen Moore

KENYA: JUMA KIPLENGE, lawyer and human rights defender, and 13 OTHERS (EX 52/98 issued July 30, 1998 and re-issued September 30, 1998). Amnesty International has recently learned that charges of incitement to violence and unlawful assembly brought against Juma Kiplenge and 13 others in Kabernet were withdrawn on 16 October 1998. It was feared that Juma Kiplenge and the others were at risk of being convicted after an unfair trial and also would have been considered prisoners of conscience. If convicted they would have faced a five year prison sentence in a country where prison conditions amount to cruel, inhuman or degrading treatment, or punishment. The magistrate hearing the case had reportedly stated, at a previous hearing, that he would convict the defendants regardless of the evidence heard in court 'because they are trouble makers'.
Juma Kiplenge and his co-accused were arrested and charged after organizing and attending a peaceful one day cultural event in October 1997, violently broken up by police. Juma Kiplenge has repeatedly been harassed by the Kenyan authorities. He has also had death threats made against him. Similar charges brought against Juma Kiplenge in Nakuru were withdrawn on 23 September 1998. Amnesty International believe the charges in both cases to be politically-motivated.
Juma Kiplenge has said,
'I would like to take this opportunity to thank the entire Amnesty International membership for their Urgent Action letters that led to our case being withdrawn. Please pass my regards to all your colleagues.'
---

ETHIOPIA: DR ASRAT WOLDEYES (UA 137/98 issued April 30, 1998 and re-issued July 1, 1998 and December 2, 1998).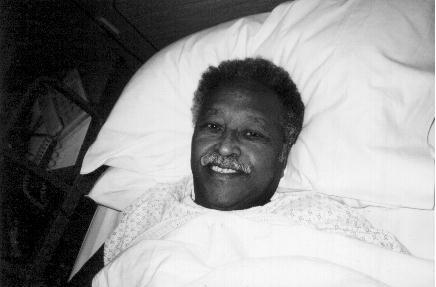 This picture of Dr. Asrat Woldeyes was taken while he was in hospital in London UK
On 27 December 1998 the Ethiopian government finally allowed Dr (Professor) Asrat Woldeyes to go abroad for urgently needed medical treatment. Shortly after, the prosecutor withdrew the charges against him, saying he was physically unfit to stand trial. Dr Asrat Woldeyes, a political prisoner since 1994 and in hospital for the past year, had spent nine days in the intensive care unit at Black Lion Hospital in Addis Ababa following serious cardiac failure. His condition was life-threatening, according to the doctors treating him, and his chances of survival were low. After spending three days in a London hospital, Dr Asrat Woldeyes flew with his doctor and son (who lives in the USA) to Houston, USA. He is now receiving further treatment in the same hospital where he underwent a triple bypass heart operation several years ago.

Dr Asrat Woldeyes recently completed the previous prison sentences imposed on him, for which Amnesty International regarded him as a prisoner of conscience. No convincing evidence had been brought against him in the current trial to prove that he was imprisoned for anything but his avowed non-violent political beliefs and activities as leader of the All-Amhara People's Organization (AAPO) opposition political party. While in London, Dr Asrat Woldeyes received visitors and was in good spirits while undergoing tests. He has still not fully recovered his vision after suffering a mild stroke in January 1998 but his diabetes is now under control. He thanked Amnesty International for campaigning on his behalf, and particularly for publicising the seriousness of his health complaints. This had not been fully understood by diplomats and others visiting him and had been under-played by the security officials guarding him in hospital. The relief of the stress of being in custody immediately improved his condition and bodes well for his recovery. He will now benefit from medical facilities not available in Ethiopia and from medical care without interference. In Ethiopia he had never been allowed confidential access to doctors while in custody.
---
URGENT ACTION NETWORK ACTIVISTS:
We heard how successful the Amnesty International chapter at Centerville High School (Centerville, Ohio) has been during the 98-99 school year so we asked the group coordinator, Nina Nandy to tell us how they get so many appeals written for Urgent Actions. She writes:
At Centerville High School, we are extremely excited about Amnesty this year and this optimism can be seen through the 175 active members! This is a five-fold increase in membership in comparison to the previous year. To recruit new members, we held a meeting for previous members at the beginning of the school year and we decided to visit classrooms to explain what Amnesty is all about. We also put announcements over the school PA system and made flyers to publicize our meeting.

During our second meeting of the year we held an Urgent Action writing workshop where we explained proper salutations, content and general format of Urgent Action writing and as well as discussed good and bad examples of Urgent Action letters.

Students usually hand-wrote UAs or typed multiple copies on the computer. To increase the number of Urgent Actions, we usually set aside the last portion of a meeting (usually the last 20 minutes of a one-hour meeting) when activists can work on their Urgent Actions. Working on UAs during a meeting has increased the number of UA appeals since now members have more time to write them. I am also thinking about providing students with ready-made form letters that they can just sign and send to increase output. I also read releases from the monthly newsletter to stress the importance of letter-writing as well as read letters that prisoners of conscience have written back to show their thankfulness and the overall effectiveness of UAs. We also use some of our funds to pay for postage so that this will encourage more people to write. However, some people still pay for their own letters, which is great.

We have turned out a large number of Urgent Actions this year, with 62 in October and 183 Urgent Action letters in November. This number is rising greatly.

The number of interested activists is growing as well. We usually gain at least five new members at each meeting. I frequently receive telephone calls and visits from members who have questions concerning Amnesty, our campaigns, or Urgent Actions. Individuals have turned in anywhere from 1 to 14 UA letters to me at a time and I always keep track of who has given me how many UA letters.

At meetings, I usually let members know how many UA letters have been written and thank individuals who have written them at each meeting so that this will spark more activism and encourage individuals to keep writing. So far, our efforts have been greatly effective.

We want to spread our optimism to other high schools. I have also contacted other AI groups in our locality and have had students come in or go out as liaisons to oversee letter-writing, activities and so forth. We are trying to help other schools in their writing as well as better our own systems to create an even more organized and efficient organization.

---


At the Church of the Servant in Grand Rapids, Michigan, I provide typewritten letters with our church's letterhead for church attenders to sign. To give it regularity, I make sure I have a few letters ready every Sunday. Several church members chose this alternative about 10 years ago when attendance at our letter-writing meetings was dwindling. We don't get as many letters this way but we do get more signatures.

Thank you for this opportunity to share with you. I look forward to hearing what others are doing too.

Many thanks to long-time Urgent Action activist, Ilene Van Bruggen for this description of UA activities at her church. It appears they have figured out the best way to ensure that church attendees have an opportunity to participate in Urgent Action appeals!
---

INDONESIA: DITA SARI (UA 198/98 issued August 7, 1996 and re-issued August 12, 12, 16, 19, and September 13, 16, 20 1996). Here is a portion of a message from Dita Sari for the 1999 International Women's Day. She remains in prison.
Dear Sisters,

This is the third time I write down to you from the prison cell where I remain now. Three years have suddenly passed, . . . In the middle of various political issues, women's prison seems to be a silence community. It is not isolated from the world but it's also not completely being a part of her surroundings. But still, messages of solidarity that have been sent to me from many parts of the world, reach my cell. It feels like every time a letter of solidarity arrives, the rose in my cell blossoms. This is a very warm feeling. That is why I would like to share it with you, through this letter.

Thank you for all the solidarity you have given to me. Hope to see you in the next better time.

Love, (Dita Sari's signature)
---
The following article was written by group members James Donahue and Katelyn Allen, Auburn High School students.We had to shorten it to fit here but we are amazed at all the human rights work and UA letter-writing this group does!

Have you ever wondered what Amnesty International is like in other towns or even other states? Auburn High School has one of the most prominent Amnesty clubs in the state in Massachusetts.

Kristine Dunkerton and Dorothy Erikson founded AI at Auburn in 1988. These two girls were, independently , writing letters to countries in support of prisoners of conscience for two or three years. They did not think to make Amnesty a school club, thinking that no one would be interested. Never did they think that AI at Auburn would grow to be this big. In 1988 they gained the support of the principal, and soon Amnesty was an official school club.

Currently, AI consists of 47 students and Mr. Barringer as the advisor. There have been 13,158 letters written since AI started at Auburn High School, and 1,100 have been written this year alone.

Friday in Auburn is more or less AI day. In the morning during the daily announcements students are invited by the AI advisor, John Barringer, down to his room for a meeting. New Urgent Actions are introduced, and future events are discussed.
A map, situated in Mr. Barringer's room, shows and pinpoints the regions of the world that AI has been sending letters. Not only do AI students learn about world politics and affairs, they learn about geography.

A unique feature about Amnesty life at AHS is the independent studies. Anyone who is involved in AI has the option of taking it as a class. This takes the place of a directed study hall, and credits are earned corresponding to the hours put in. The AHS guidance office shows great flexibility when it comes to taking classes. During the independent study, members do extra work, write letters, organize events, or even search online for more Urgent Actions or ideas. The possibilities are endless.

Recently an anonymous envelope was sent to AHS, addressed to Amnesty. It contains a large number of stamps. Whoever sent that certainly saw the good in AI and wanted to be a part.

Every member gains something from AI that they could not otherwise obtain. They are able to break free from their small suburban bubble and see how the world really is. They gain awareness of the injustices in other countries and in their own. Auburn's Amnesty has an enthusiastic desire to protect human rights and better the world.
---

CAMEROON: PIUS NJAWÉ, journalist, director of Le Messager (UA 7/98 issued January 8, 1998 and re-issued January 15, March 4, April 15, June 26, August 13, October 16 and December 7, 1998). Pius Njawé was tried and sentenced to two year's imprisonment, subsequently reduced on appeal to one year. He was released in October 1998 after receiving a presidential pardon. In a fax to Amnesty International he wrote:
At last I am free! Free after being arbitrarily detained for 10 months, just for trying to do my job as a journalist...

Free after 10 months of detention in horrible conditions, which I could only endure with your constant moral support. Really, if I was able to survive that hell, if I was able to keep a strong spirit, to the surprise of my oppressors, it was thanks to the constant backing and signs of solidarity from the members of your organization...

I would like to let you know that each of your actions, at any level, has greatly contributed not only to my release, but also to the promotion of press freedom...

I would like to sincerely express my deep gratitude for your support and solidarity. I would also like to say THANK YOU for all you have done for our cause. You were GREAT and I shall never forget...

I wish to see that solidarity grow stronger, to the benefit of those who all over this planet earth suffer from intolerance and arbitrariness.
---

UNITED STATES: ABDULKADIR FARAH HASSAN (Refugee Action 3/98 issued November 23, 1998). An Immigration Judge granted asylum to Mr. Hassan on December 10, 1998. The attorney who represented him, says that his government file was "crammed with letters" from Amnesty International and other organizations. Mr. Hassan wanted to thank everyone who wrote on his behalf. He was very touched by our concern.
---

KENYA: WANGARI MAATHAI (UA 5/99 issued January 11, 1999). Amnesty International has learned that Kenyan Attorney General Amos Wako has apologised to Greenbelt Movement leader Professor Wangari Maathai for the beating she received at the Karura forest demonstration on 8 January 1999. He has also ordered a full investigation into the incident, but according to the information received by Amnesty International no arrests have yet been made. Police Commissioner Duncan Wachira has promised police protection for Professior Maathai at any future demonstrations at Karura forest.


---

AUSTRALIA: SADIQ SHEK ELMI, aged 38 (EX 86/98 issued November 18, 1998 and re-issued November 20, 1998). Sadiq Shek Elmi won a last-minute reprieve from being returned to Somalia, where he is at risk of torture or extrajudicial execution, after a dramatic intervention by the United Nations Committee Against Torture (UNCAT) in Geneva. His fate remains unclear, however, pending a decision by the Minister for Immigration, Mr Philip Ruddock, in response to the UN intervention.
The case won widespread media coverage in the country:

The decision on a delay of at least 48 hours, and maybe indefinitely, came as the man was being flown under guard from Melbourne to Perth, where he was to fly to Johannesburg yesterday afternoon".

The UNCAT action was part of a worldwide protest that was galvanised yesterday as Amnesty International's London headquarters put out an "urgent action" bulletin on the case, its first against Australia in nine years".
"It led to demonstrations at Perth airport by local Amnesty members, the Uniting Church and Transport Workers Union refuellers, who threatened to prevent the plane leaving".

The Australian Government continues to advise its citizens to avoid travelling to Somalia, saying that "all of Somalia is dangerous" (The Age Newspaper, Friday 20 November 1998).

On 19 November, the Australian Government Solicitor advised Amnesty International Australia of a Federal Court order issued that afternoon prohibiting publication of Sadiq Shek Elmi's name in Australia. Sadiq Shek Elmi has now been flown to Port Hedland's immigration detention centre in Western Australia, some 4,000 kilometres from his Melbourne-based lawyer. He told Amnesty International in an interview that he wishes to thank everyone who appealed on his behalf, saying he felt as if death had been approaching and his life had been saved.

---
THE WISE MAN, THE YOUNG MAN AND THE STARFISH: A STORY FOR UA ACTIVISTS

Once upon a time, there was a wise man who used to go to the ocean to do his writing. He had a habit of walking on the beach before he began his work.

One day, he was walking along the shore. As he looked down the beach, he saw a human figure moving like a dancer. He smiled to himself to think of someone who would dance to the day. So he began to walk faster to catch up.

As he got closer, he saw that it was a young man and the young man wasn't dancing, but instead he was reaching down to the shore, picking up something and very gently throwing it into the ocean.

As he got still closer, he called out, "Good morning! What are you doing?"
The young man paused, looked up and replied, "Throwing starfish in the ocean."

"I guess I should have asked, why are you throwing starfish in the ocean?"

"The sun is up and the tide is going out. And if I don't throw them in, they'll die."

"But young man, don't you realize that there are miles and miles of beach and starfish all along it? You can't possibly make a difference!"

The young man listened politely, then bent down, picked up another starfish and threw it into the sea, past breaking waves and said, "It made a difference for that one."
---

CHAD: NGARLÉJY YORONGAR LE MOÏBAN - leader and sole parliamentary representative of the opposition party, Action front for the Republic-Federation (UA 166/98 issued May 29, 1998 and re-issued June 19, 1998, July 22, 1998 and October 29, 1998). Prisoner of conscience Ngarléjy Yorongar le Moïban was released on 5 February 1999, after eight months in detention. His release was announced in a presidential decree, which cited 'humanitarian reasons', issued after a meeting between President Idriss Déby and local political representatives from Ngarléjy Yorongar's East Logone region in southwestern Chad. During the meeting, President Déby said to the representatives: "I am releasing him for you, but remember that I have the means to keep him quiet. I am releasing him for you, so it is up to you to keep him quiet."

Following his release, Ngarléjy Yorongar sent the following message of thanks to members of Amnesty International who campaigned on his behalf:
"Your actions, combined with the chain of solidarity of activists all over the world, have led to my release... I do not know how to thank you... Without this chain of solidarity, I would still be in that regrettably well-known prison... I encourage you to continue working on behalf of the prisoners who, all over the world, are rotting in the jails of dictators... my greetings to all the Amnesty International activists who wrote to me, encouraging me to hold out. I can tell you that your letters were confiscated by the security police, and it is only since my release that I have been able to read some letters sent from the United States, which slipped through the net... my warmest thanks and sincerest gratitude."