UA NOTES
for AI speakers, staff
Urgent Action Program Office
P.O.Box 1270
Nederland CO 80466-1270
email: sharriso@aiusa.org
February 1998 - October 1998

Below is an informal collection of UA-related stories with a positive slant. For the horrible details, you can read the Urgent Actions themselves. We are constantly asked for UA "success stories", thank-you quotes from prisoners, and other unique stories reflecting not only prisoners' situations but our own letter-writers' activism. We hope that some of the information found in UA Notes might be used to complement an AI presentation, either on paper or a talk from behind a podium. We are distributing this to regional office directors, our executive director, the development staff, activists and to anyone who asks to receive it. You are welcome to copy all or part of UA Notes for others within AI and if you would like us to put anyone else (within AIUSA) on our mail list just let us know. We issue UA Notes whenever we have collected enough good news from Urgent Actions to fill these pages. As you can see, it has been a while.... hope it is useful to you.
best,
Scott Harrison and Ellen Moore
---


TURKEY: SANAR YURDATAPAN (EX 53 / 97 issued April 18, 1997).

We were honored to have Sanar Yurdatapan as a guest of AIUSA at its 1998 Annual General Meeting in San Francisco this March. Sanar had been the subject of an Urgent Action when he was arrested and held incommunicado for a time in Metris Prison in Istanbul. In November, after his release, Mr. Yurdatapan wrote "An open letter to all Urgent Action volunteers". He began,
"Mr. Sabri Ergul - an MP (member of parliament) and human rights activist - called me yesterday and told me what Mr. Nub Mete Yuksel, Prosecutor of the State Security Court of Ankara, had said to him: 'I think we made a mistake to keep this man in prison!' Dear AI members, dear 'Urgent Actors and Actresses' It was your beautiful letters and cards that caused the prosecutor to speak those words.

I want to thank you one by one for your great support and solidarity. I received almost 190 letters or cards from many places, from Austria to Australia, from New York to Hong Kong Your beautiful words brought the sunshine into the prison hall and brightened the hearts of all the prisoners, not just mine. I hope that hearing this feedback will give you strength to carry on your efforts, which have such great value for prisoners, who need hope more than anything else. "

Sanar Yurdatapan (with megaphone)
Istanbul University. March 11, 1997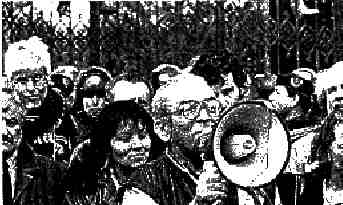 IRAN: ZOLEYKHAH KADKHODA (UA 282/97 issued August 22,1997 and re-issued November 4,1997).
The Iranian authorities have informed A.I. that the death sentence against Zoleykhah Kadkhoda has been lifted and that she was released on November 26, 1997. On August 11, 1997, Zoleykhah Kadkhoda was publicly stoned and subsequently confirmed dead. She revived at the morgue, however, and was taken to hospital where her condition improved.
SYRIA: AKTHAM NU'AYSA, lawyer (UA 296/97 issued September 9,1997).
We are pleased to inform you that this prisoner of conscience was released at the end of May 1998. He appears to be in good spirits after release and is very grateful to Amnesty International for campaigning on his behalf.
KENYA: NJUGUNA MUTAHI, human rights activist working for the Kenyan Human Rights Commission (KHRC) and WAHOME KARENGO, journalist (UA 158/98 issued May 20,1998).
On May 22,1998 'Njuguna Mutahi and Wahome Karengo, charged with theft at a court hearing on May 19, were released on bail for an amount of 50,000 Kenyan shillings with a surety of a further 50,000 Kenyan shillings. The following message of thanks from Njuguna Mutahi came to A.I. in mid-June:
"I do not know how to say this but let me just say it, I was so overwhelmed by the support from Amnesty members and I think that I now have a good idea of what a membership organization can do. To all of the people who sent out appeals, I say a big thank you. I owe my release to their efforts.

The hearing is scheduled for July 22, but I am more than sure that the complainant will not come to court. Even if he comes, it will be a good opportunity for us to expose the group and their real intentions.

Once again, thank you.
Ninguna Mutabi"
NIGERIA: CHRISTINE ANYANWU (UA 151/95 issued on June 28, 1995)
Christine Anyanwu, publisher of the Sunday Magazine in Nigeria was released in June, 1998. After her release, she wrote to thank all those who supported her during her imprisonment:
"I cannot tell you how wonderful it feels to be free again and to be able to write you this note. It is something I have wanted to do since 1997 when I received my first batch of cards from the peoples of the world, generated through Amnesty's efforts. It is impossible to paint an accurate picture of the actions and reactions as I sat in that tiny cell, the floor carpeted with cards and envelopes. It was deeply touching, greatly encouraging, and strengthening

Thereafter, I knew that I was not alone, and held on to the thought till the end. 1pasted the walls with the photographs and the words of exhortation. I was emboldened by them, inspired even to stretch my imagination beyond the ubiquitous, constricting walls, and produce ideas and images which I hope should be of some use in the future.

I thank the staff and members of Amnesty International worldwide. My special thanks to USA, Canada, United Kingdom, Ireland, Northern Ireland, France, Germany, Spain, Bermuda, Holland and Italy branches for their overwhelming responses. "Thank you Amnesty for going that extra mile to obtain a true picture of what brought about our ordeal, and for your strenuous efforts in sensitizing the world community to our case.

I thank all those thousands of people of the world who gave me strength and encouragement through cards and notes. I shall never forget your kindness.

Thank you with all my heart."
Chris Anyanwu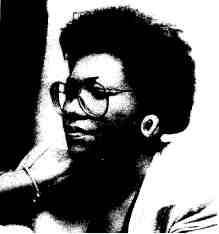 IRAN: FARAJ SARKOUHI, editor (UA 292/97 issued September 4,1997 and re-issued September 19,1997).
Faraj Sarkouhi was released on January 27, 1998, and has recently been reunited with his wife and children who reside in Germany. Faraj Sarkoul-ii was arrested in February 1997 and charged, on June 23, 1997, with, among other things, "spying for a foreign country and attempting to illegally leave the country." He was tried by the Revolutionary Court in Tehran and on September 17, sentenced to one year's imprisonment for "propaganda against the Islamic Republic of Iran". A.I. believed Faraj Sarkouhi to be a prisoner of conscience, however, detained solely as a result of his non-violent political activities. Faraj Sarkouhi had his passport returned to him by the authorities in April 1998 after letters were sent, by more than 50 journalists and writers from Germany and Iran, to President Mohammad Khatami requesting that he be allowed to leave the country. This update was delayed due to difficulties experienced by Faraj Sarkouhi in obtaining travel papers. On his arrival in Germany earlier this year, Far-aj Sarkouhi was invited by the International Writers' Parliament to spend a year in Frankfurt as part of its "Cities of Asylum" project.
INDIA/BHUTAN: RONGTHONG KUNLEY DORJI, Bhutanese national (EX 57/97 issued April 22,1997 and re-issued May 28, July 23, 1997 and re-issued July 2, 1998).
Rongthong Kunley DoiJi was released on bail on 12 June 1998, after being held in judicial custody in New Delhi for nearly 14 months. Amnesty is encouraged by this development, but remains concerned that he is still at risk of extradition to Bhutan where he could face serious human rights violations, such as torture and ill-treatment. Rongthong Kunley Dorji was arrested on 18 April 1997, after the Indian authorities received an extradition request from the Bhutanese authorities. Amnesty is further concerned that the basis for his extradition is politically motivated. Rongthong Kunley Dorji is the founder of the Druk National Congress DNC) and chairman of the United Front for Democracy in Bhutan; two Bhutanese political organizations set up in exile in Nepal. The stated aims of the DNC are the establishment of a democratic system of government in Bhutan and the protection of human rights. Under the conditions of his bail, Rongthong Kunley Dorji is obliged to remain in New Delhi under police surveillance. He has also volunteered to report twice weekly to New Delhi police and to surrender his travel documents. Rongthong Kunley Dorji's release came after the New Delhi High Court upheld the order of the Chief Metropolitan Magistrate for his release, which the central government had challenged. The Public Interest Legal Support and Research Centre, a public interest law firm, has made Numerous applications for Rongthong Kunley Dorji's release on bail.
Following his release from judicial custody, Rongthong Kunley Dorji wrote:
"The prompt action and appeals sent out by Amnesty International were instrumental in bringing the position of my case to what it is now, resulting in my bail Finally being granted and my release".
BRAZIL: SERENITA ANDRADE FERNANDES, HONCERIO SANCHEZ FERNANDES, JOZO, ANDRADE FERNANDES, CARLOS CEZAR BORGES ANDRADE FERNANDES (UA 109/98 issued April 9,1998).
Amnesty International has received news that three men - two gunmen and the policeman alleged to have hired them - have been arrested in connection with the murder of Carlos Cezar Borges Andrade Fernandes, aged 10, who was killed in January 1998. Two men have admitted to carrying out the murder and claim that they were paid to do so by the local military policeman. They say that the killing was a 'punishment' to the boy's mother for publicly expressing her suspicion that the policeman had been involved in the murder of her brother. They have also admitted to previously murdering another boy, Ademir Oliveira, aged 12, whom they mistook for Carlos Cezar.
Civil police finally took action and investigated the case after the Brazilian authorities received over 2,000 letters from Amnesty International members calling for a thorough investigation, motivating the federal Ministry of justice to intervene in the case. Once initiated, investigations were completed and arrests made within less than a week.
"The non-governmental organization that brought the case to Al's attention wish to express their gratitude for the 'support, involvement and commitment' of Amnesty International and wrote 'We believe that it was only possible for us to obtain this result via the mediation and intervention of Amnesty International'. "

PALESTINIAN AUTHORITY: 'ATTIYA ABU NUQAYREH AND 'ALA' 'AKEL (UA 180/98 issued June 19, 1998 and re-issued June 30, 1998).
'Attiya Abu Nuqayreh and 'Ala' 'Akel decided to end their open hunger strike on 28 June after a colonel from the Military Intelligence visited them in the hospital. He informed them that Military Intelligence would be recommending to the President of the Palestinian Authority, Yasser 'Arafat, that the two prisoners should be released. Amnesty International has been informed that the large numbers of letters and faxes received by President 'Arafat, and the Minister of justice, Freih Abu Meddein, contributed to these developments. 'Attiya Abu Nuqayreh and 'Ala' 'Akel have been transferred to a military hospital in Khan Yunes in the southern part of the Gaza Strip. They are now in the custody of the Military Intelligence. Their health is reported to be fair.
BRAZIL: MIRIAM PROCHNOW AND WIGOLD SCHAFFER (UA 340/97 issued October 30,1997).
Amnesty International issued an Urgent Action on behalf of these two environmental activists campaigning to save the Mata Atlantica Rainforests in the state of Santa Catatrina in the south of Brazil, after they were threatened with death because of their work.
One anonymous caller left a message on their answering machine saying: "Tell Miriam and Wigold to keep out of the logging in Santa Terezinha (a small town nearby), because we're not going to just make threats and then do nothing." Another caller simply repeated over and over "You're going to die, you're going to die."
Miriam Prochnow and Wigold Schaeffer later wrote to Amnesty to thank all those who made appeals after UA 340/97 was issued.
"From the bottom of our hearts, we thank you for all the support and solidarity received. The letters that you sent to the Brazilian authorities, together with hundreds of others, provoked investigations from federal and state police. Those investigations caused a wide repercussion on the press and local public opinion and made the threats against us stop.

Unfortunately the police have not yet found the authors of the threats, which were caused by our involvement in defending the Atlantic Forest and fighting against pollution and environmental degradation through APREAM V1, Association of Environmental Preservation of Alto Vae do Itajai "
NEPAL: 15 TIBETANS: YOUDON, BAKAR, SONAM, NORBU TSERING, SONAM, SONAM, LHUNDUP GYATSO, TENZIN JAMPEL, THUBTEN KELSANG, PEMA GYALPO, NAMGYAL DORJE, THUBTEN, TENZIN GELEK, LHUNDUP TENZIN, AND FIVE AMNESTY INTERNATIONAL MEMBERS (EX 41/96 issued March 18,20 and 26,1996).
"In March 1996, a few days after Al Nepal launched the China Campaign, three of our members were suddenly arrested while collecting signatures. After we attempted to stage a denunciation most of the office staff of Al Nepal and many Tibetans were also rounded up and we found ourselves behind bars. The country's newspapers flooded with the news. The major political parties stated that we, the 'anti-China' protesters, had committed a grave crime and that we should be charged with treason. Many members of the press agreed.

We were not allowed to receive any letters from outside, nor to send any. But hundreds of people came to see us. And from them we learned that AI had issued an Urgent Action on our behalf. This came at a time when we felt that nobody in Nepal was voicing support for us because it was a matter to do with China.

Our ordeal lasted three days, after which we were released unconditionally. Later, we found out that the Prime Minister's office had been flooded with letters, faxes, telegrams and e-mails from people around the world demanding our release.

Before this happened, when l prepared and wrote Urgent Action appeals, I used to try to imagine the value of letters to victims of human rights abuses. But when we ended up behind bars ourselves we directly experienced what a letter is worth. "
By Anil Pant, Director and UA Coordinator for Al Nepal

PALESTINIAN AUTHORITY: FATHI SUBUH (UA 205 /98 issued July 10, 1997 and reissued 6 times).
In June 1997 Fathi Subuh, a 43 year-old university professor, set the questions for an examination for his "critical thinking course" at al-Azhar University in Gaza City. Two of the questions asked students to write about corruption in the Palestinian Authority (PA) and to discuss corruption at the university.
Shortly afterwards, on 2 July, the Palestinian Authority's Preventive Security Service (PSS) arrived at his home and took him away. Al concluded that Fathi Subuh had been arrested for setting examination questions seen as critical of al-Azhar University and the PA and adopted him as a prisoner of conscience (POC).
The Urgent Action Network began working on Fathi Subuh's case after he had spent nine days in incommunicado detention. Initially appeal writers asked for his immediate and unconditional release if he was not to be charged or brought to trial. They also urged the PA to allow visits by his family and lawyer.
Over the next few months different PA officials provided different justifications as to why Fathi Subuh was in jail. including "security reasons" and "moral reasons-. But no charges were pressed against him. And if these were the reasons for his arrest, why did members of the PA's security forces turn up at his home later in July 1997 to confiscate the students' examination answers?
A steady flow of information from Gaza City allowed the research team at the International Secretariat to update the UA Network regularly about developments on his case, such as his first family visit and the challenge brought against his detention in the Palestinian High Court.
It was not until later, however, that the world learned that Fathi Subub was not only arbitrarily detained but had also been tortured when he was initially held in PSS' Tel alHawa Detention Centre.
His lawyer described in court in September 1997 how his client had been hung from behind by his hands with his feet off the ground, how he had been forced to balance on his toes for long periods and how he had been subjected to beatings, sleep deprivation and hooding.
On 30 October Fathi Subuh was transferred to Shifa' Hospital after he fainted. He was found to have a brain condition caused by the deterioration of sinus-related problems. On 26 November he was taken to the State Security court and released on bail of 5,000 Jordanian dinars ($US7,100).
AI delegates visited Fathi Subuh and his family in their home in February 1998. He said that sometimes, during his interrogation. he was asked how he knew so-and-so from Sweden or Germany - the writers of UA appeal letters. He expressed his deep gratitude to AI members for all their work on his behalf.
On 11 March 1998, Freih Abu Middein, the PA's Minister of Justice, wrote to Riad alKhudari, the President of al-Azhar University in Gaza City, stating, "We would like to inform you that Doctor Fathi Subuh has been released without charge or conviction".
We don't know exactly how many letters the UA network wrote to PA officials on behalf of Fathi Subuh. But we know that they were many. and that they made a difference. In September last year, when an Al delegate met with Colonel Muhammad Dahlan, the head of the PSS in the Gaza Strip, the Colonel said they had already received 3,500 letters asking for Fathi Subuh's release!

by Amnesty's East Mediterranean team
Dr Fathi Subuh, surrounded by his family, reads a copy of "his" Urgent Action.
He expressed his deep gratitude to Al members for all their work on his behalf.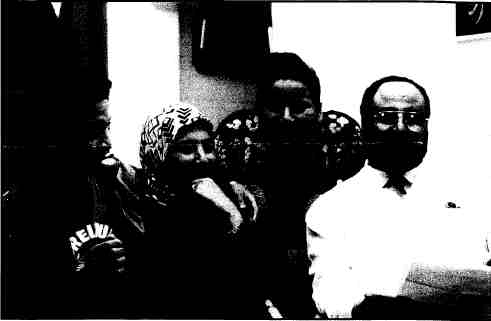 SEVERAL COLOMBIA UAs

On a day to day level, the spotlight that the UA network throws on a community at risk or on a nongovernment organization (NGO) working in the field in an extremely tense situation, helps provide a breathing space for those under threat and allows them to continue their essential work. The appeals that come flooding in may not only save a potential victim of human rights violations, but are also a testament to those in danger that the rest of the world is listening and responding. Appeal writers cannot guarantee the safety of those under threat - that is the responsibility of the government - but without the flood of UA appeals the threat they face would be even greater.
Al recently received this letter from the "Displaced Peoples' Support Group", an umbrella organization of NGOs working with the many thousands of communities who have been forced to flee their homes by the violence:
"Dear Friends:
I wish to express to all the members of Amnesty International our sincere gratitude for their interest in the situation of the displaced Colombians.

We have received hundreds of copies of letters directed to the Colombian authorities signed by members of Al from different countries all over the world referring to cases such as Puerto Alvira, Villavicencio, Medellin, Muindo, Carmen de Atrato, San Jose de Apartado, etc. expressing their concern for the situation in Colombia., urging the government to adopt preventive measures to protect the displaced population and guarantee the safety of those who carry out humanitarian works...

We were not able to express our gratitude before, because as you know, the situation occupies all our time. Nevertheless, we remember. Without you we wouldn't be able to carry on our work. "
These women are part of a sewing workshop in San Jose de Apartado,
one of the areas frequently featured in UAs on Colombia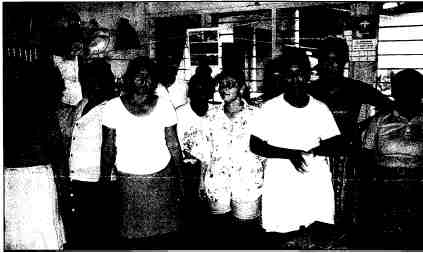 TUNISIA: RADHIA NASRAOUI AND HER 9-YEAR-OLD DAUGHTER, HAMMAMI OUSSAIMA (UA 48/98 issued February 13, 1998 and re-issued March 13 and June 12, 1998).
On the night of February 11, Tunisian security forces ransacked the office of Radhia Nasraoui, a human rights lawyers and mother of two All the files relating to her clients, legal codes, books and a computer were stolen. Nothing was taken from colleagues sharing the same office. She wrote this letter to Amnesty International earlier in 1998 and after the issue of that Urgent Action:
" When I first got in contact with Amnesty I was a young lawyer at the beginning of my career. It was 1978, the time of the riots and the suppression of the trade unionists of the Tunisian Workers' General Union. I discovered the seriousness with which Amnesty representatives treated the cases they were working on, their quest for truth, their discretion ... I was struck by their independence towards everyone...

When my husband, Hamma Hammami, was arrested, tortured and sentenced to jail in 1994, I myself experienced the effectiveness of Al's actions. Al and other NGO Is played a very important role in the improvement of his harsh detention conditions (months of isolation, physical and psychological aggression) and in his release. I will always remember the moral support Al gave me...

In the end I too became the victim of constant harassment. My conviction of Al's role has been confirmed: it is an absolutely necessary action for the defense of human lights at the international level. Through my own experience, I have come to understand that Al's intervention on behalf of a victim reminds the authorities that this person is not forgotten that hundreds or even thousands of people worldwide are concerned about the fate of this person.

It is very important that Al does not take into account the social background, ideology or political stand of the victim. Al's actions prove that "human rights for all" is not an empty slogan. The hundreds of postcards that my husband and I received are the living proof of this effective solidarity from AI members who are aware of our difficult situation. Through this story, I want to warmly thank all Al members. The pursuit of Al action is vital so that one day all human lights abuses will end. "
-Rahia Nastaoui
Empty office: Radhia Nasraoui stands where her office equipment used to be
before the Tunisian security forces confiscated it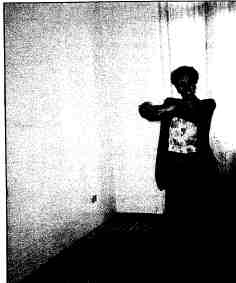 ---
Persistence, ours and theirs, pays off!
We issued six actions on behalf of these people over the last 13 years

News Service 168/98
28 August 1998

Viet Nam: Prisoner of conscience amnesties - a positive step

Amnesty International today welcomed the announcement from the Vietnamese authorities that two prominent prisoners of conscience will be included in the annual Presidential Amnesty for National Day on 2 September.

"This is a great day for the families of Dr Nguyen Dan Que and Professor Viet Hoat, " the human rights organization said today. "Amnesty International members around the world who have campaigned for years for the release of these prisoners will all share the families' feelings of great happiness at their impending release. "

The two prisoners of conscience both spent many years in prison for their peaceful activities and political beliefs. Both have suffered serious health problems in recent years.

Dr Nguyen Dan Que is an endocrinologist who was arrested in 1990 and sentenced in 1991 to 20 years' Imprisonment. He was a founder member of the Cao Trao Nhan Ban (High Tide of Humanism Movement), and wrote the organization's manifesto, which called for democratic change in Viet Nam.

Dr Nguyen Dan Que was previously detained without trial for 10 years between 1978 and 1988, after he criticized the national health care policy of the Socialist Republic of Viet Nam. On his release from prison, he became a member of Amnesty International. When he was re-arrested in 1990, one of the charges against him was his membership in the organization.

Professor Doan Viet Hoat is a writer and academic, and a leading member of the Freedom Forum group, which produced a small newsletter critical of the Vietnamese government. He was arrested in 1990, and sentenced in 1993 to 20 years' imprisonment reduced on appeal to 15 years, for "counterrevolutionary activities." He had previously been detained without trial for 12 years between 1976 and 1988. Professor Hoat spent much of his recent imprisonment in solitary confinement.

"The release of Nguyen Dan Que and Doan Viet Hoat is a cause for celebration, and we welcome the Vietnamese government's decision to give these men their freedom, " Amnesty 1nternational said. " We are hopeful that this is a turning point for human rights in Viet Nam, and invite the Vietnamese authorities to open a dialogue with independent human rights monitors, in order to help bring an end to the detention of prisoners of conscience in the country.