UA NOTES
for AI speakers, staff
Urgent Action Program Office
P.O.Box 1270
Nederland CO 80466-1270
email: uan@aiusa.org
July 2001 - January 2002
Below, in no particular order, is an informal collection of UA-related stories with positive slants. We hope that some of the information found in UA Quotes might be used to complement an AIUSA presentation or just inspire your continued letter-writing. We are distributing this to the Urgent Action Network, regional office directors, our executive director, the development staff, and to anyone who asks to receive it. You are welcome to copy any part of UA Quotes for others and if you would like us to put anyone else in AIUSA on our mailing list just let us know. Email Scott at uan@aiusa.org if you would like a text version of this paper emailed to you. We issue UA Quotes whenever we have collected enough good news from Urgent Actions to fill these pages.
Sincerely,

Scott Harrison and Ellen Moore
for the Urgent Action Network

ý ü þ
"If I can stop one heart from breaking, I shall not live in vain.
If I can ease one life the aching, or cool one pain,
or help one fainting robin unto his nest again,
I shall not live in vain."
-Emily Dickinson

DEMOCRATIC REPUBLIC OF CONGO: GOLDEN MISABIKO BAHOLELWA (UA 118/01 issued May 16, 2001 and re-issued May 17, July 17, August 31 and September 21, 2001). Human rights defender Golden Misabiko was released without charge from Kinshasa's main prison on September 13, after spending over seven months as a prisoner of conscience. Although relieved to be free, he requires medical treatment after being tortured in the initial stages of his imprisonment. One other detainee, Clarice Bebi Zaina, a member of the military, was released at the same time as Golden Misabiko. They had both been held in the cell-block known as Pavillon 1, where over 50 people continue to be detained for their alleged role in the assassination of Laurent-Desire Kabila in January 2001, although none of them have been formally charged. Golden Misabiko has sent his thanks to all those who sent appeals on his behalf. He said that when he was informed that Amnesty International was campaigning for his release he said to himself: 'I'm going to get out' (je vais sortir).

EGYPT: FARID ZAHRAN, NGO activist (UA 245/01 issued September 25, 2001). Farid Zahran was released on bail October 4. On October 2, the State Security Prosecution had ordered his conditional release while investigations into his activities continue. Farid Zahran was released from Mazra'at Tora Prison two days later, after paying 5000 Egyptian Pounds (about US$1180) bail. A few hours after his release, Farid Zahran spoke to Amnesty International and thanked them for campaigning on his behalf. He said that the prison authorities had refused to let him see a medical expert about his heart condition, although he had asked many times. He also said that he had been beaten during his arrest and kept blindfolded for four hours afterwards. He had been held in solitary confinement for most of the two weeks he was in custody.


RUSSIAN FEDERATION/TAJIKISTAN: DODOJON ATOVULLOYEV (EX 42/01 issued July 9, 2001). Dodojon Atovulloyev was released this morning, after the Russian Procurator General rejected the Tajik authorities' request to extradite him. He is now on his way back to Germany. Dodojon Atovulloyev's lawyer told Amnesty International:
''Dodojon is free. It is brilliant. He was released because of the great political pressure from the German government, the OSCE, and public pressure from human rights organizations.''

ISRAEL: MUNA 'UBAYD, TEACHER, AND AKRAM 'UBAYD (UA 212/01 issued August 24, 2001). Akram 'Ubayd was released on 4 September and his sister Muna 'Ubayd was released two days later on 6 September. Akram 'Ubayd and Muna 'Ubayd have thanked Amnesty International, whose help they believe secured their release.
HONDURAS: CORONADO AVILA, LOMBARDO LACAYO, AND HORACIO MARTINEZ, leaders of the Coordinating Body of Popular Organizations of Aguan (UA 55/00 issued March 3, 2000. Coronado Avila, who together with Lombardo Lacayo and Horacio Martinez had been receiving death threats prior to an urgent action of March 3, 2000, has written the following letter, thanking all those who wrote appeals on his behalf.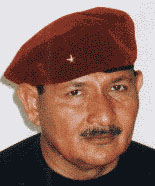 Tocoa, Honduras
July 30, 2001


Dear friends of Amnesty International who work side by side with those men and women fighting for justice and human rights all around the world:


Let me tell you from the bottom of my heart how grateful I am to all of you who work in such a prestigious organization as Amnesty International which fights for the respect of life and of the universal rights of societies around the world. I would also like to take this opportunity to tell ... everyone at Amnesty International that thanks to your support on March 3, 2000, when I was being persecuted and my life was under threat, I am still alive today. I will never forget the people who supported me and my organization, COPA (Coordinating Body of Popular Organizations of the Aguan)...


Finally, I would like to urge you not to become discouraged in your work to help men and women who raise their voices in protest to support their people.


Friends, it is people like you who are the most beautiful thing in this world, and I ask God to give you a long life, more wisdom and a heart full of love and solidarity towards the world.


To all the men and women who have supported me, I send my best wishes from the bottom of my heart.

Coronado Avila M.


KENYA: 67 MEMBERS AND SUPPORTERS OF THE RELEASE POLITICAL PRISONERS (RPP) GROUP, PROFESSOR KIVUTHA KIBWANA, KIBE MUNGAI, NJOROGE WANGUTHI, RPP CHAIRMAN AND ORINA NYAMWAMU, RPP SECRETARY GENERAL (UA 293/01 issued November 21, 2001). The charge of 'unlawful assembly' against the 71 members and supporters of the RPP was dropped on November 23. A magistrates' court in Nairobi ruled that the charge went against both the Penal Code and the Public Order Act. The RPP have asked us to thank the Amnesty International members who worked on their case:


'Thanks for all your support, and express our appreciation to all the members of Amnesty for the job well done. Without your protest letters and faxes the charges would not have been dropped.'

TOGO: HOUNDJO MAWUDZRO (UA 293/01 issued November 21, 2001). Houndjo Mawudzro, Secretary of the National Union of Togolese Students, was released on November 28. He still faces charges of defamation of character and false accusation, in connection with the press statement he made giving details of the torture he suffered when first detained in September. The day before he was released, Houndjo Mawudzro was taken to the State prosecutor who reportedly asked him whether he liked Togo and added:


"because of you, people are telling things about your country' referring to appeals generated by this action.''

MALAYSIA: DR MUNAWAR ANEES AND OTHERS (MA 8/01 issued May 21, 2001). Amnesty International has just received the following message of thanks from former POC (and survivor of torture) Dr Munawar Anees. His case featured in the recent medical action on the Internal Security Act in Malaysia. ' 'I take this opportunity to extend my profound thanks to AI for their invaluable work in the cause of freedom and justice. I for one remain eternally grateful to AI for not only speaking on my behalf but also for a sublime experience in the struggle for human rights. My personal thanks to all those innumerable volunteers of AI who raised their voice for justice. Again, thanks so much for your efforts. With warmest regards, Dr Munawar Anees.''


"I am only one,
But I still am one.
I cannot do everything,
But still I can do something;
And because I cannot do everything
I will not refuse to do the something that I can do."
-Edward Everett (1822-1909)

SINGAPORE: ZULFIKAR BIN MUSTAFFAH
(EX 33/01 issued May 30, 2001 and re-issued September 25, 2001). Zulfikar Bin Mustaffah was hanged at dawn on Friday September 28, 2001.
A member of Zulfikar's family has thanked Amnesty International for all the work the UA network has done in an effort to save Zulfikar's life.

TUNISIA: NEJIB HOSNI (UA 379/00 issued December 15, 2000 and re-issued December 21, 2000 and January 5, 2001). Prisoner of conscience Nejib Hosni was released by presidential pardon on May 12, 2001, after nearly five months' imprisonment. He spoke to Amnesty International and expressed his gratitude to all those who had campaigned on his behalf.


ISRAEL/ Occupied Territories : 'ABED AL-RAHMAN AL-AHMAR, AGED 32, HUMAN RIGHTS DEFENDER (UA 132/01 issued May 31, 2001 and re-issued June 7, June 13, July 4 and July 25, 2001). The Palestinian Human Rights Monitoring Group has written to all who are working on behalf of one of their staff, 'Abed al-Rahman al-Ahmar, who was tortured during interrogation. Rahman al-Ahmar is currently the subject of a six-month administrative detention order which allows the Israeli authorities to detain him without charge or trial until February 2002, and which is renewable indefinitely.


To Amnesty International, all the AI national sections and all the individuals who wrote on behalf of Abed al-Rahman al-Ahmar


Jerusalem, 25 July 2001
Dear Friends,



I would like to take this opportunity to share with you, in the name of our field researcher Abed al-Rahman al-Ahmar, our deepest gratitude for the patient work and efforts of the Amnesty International network on his behalf.



We have already received copies of hundreds of letters, from Australia to Germany and from Canada to Taiwan, and the stream continues to reach us, handwritten or typewritten note, by surface mail or by fax. What might appear at your end as an insignificant contribution to human rights and democracy in the world grows and swells until folders after folders are filled with letters of protests at our end. I wish you could have seen your letters brandished in court by Abed's lawyer. Your work is both meaningful and powerful.



Yes, Abed is still held in administrative detention and your efforts are more important than ever.

But I would already like to thank you, in his name and in the name of all our staff, because your support lends us great strength in our struggle for human rights, justice and democracy.



In peace,
Bassem Eid, Executive Director


UNITED STATES: PHANUPONG KHAISRI, aged 4, a national of Thailand, also known as 'Got,' INS #A77 308 906. (NSA 6/01 issued June 18, 2001). According to news reports, US Attorney General John Ashcroft announced Monday, July 23 that he had instructed INS officials to halt efforts to deport Phanupong Khaisri. The four-year old Thai boy will be allowed to apply for a 'T-visa,' available under the Victims of Trafficking and Violence Protection Act. 'Got,' as he is called, was granted humanitarian parole to his existing custodians. Amnesty International USA members had been asked to write the Attorney General to direct the INS to accept Phanupong Khaisri's T-visa application and to request that he be allowed a full and fair hearing in Immigration Court. The Attorney General's actions accomplished this objective. Though the granting of the T-visa is not automatic, the halting of efforts to deport Phanupong Khaisri should provide for his protection for the foreseeable future. The attorney for Phanupong Khaisri, Mr. Charles Song, asked that the AIUSA Refugee Office convey thanks to AI members who wrote on behalf of this boy. He especially wished to acknowledge the efforts of the Children's Edition Urgent Action Program, which featured this action in July (the CEUA program encourages young people to write government officials). The attorneys and 'Got' had a personal meeting with Attorney General Ashcroft to discuss this case.


TUNISIA: SIHEM BEN SEDRINE, journalist, human rights defender (UA 6/01 issued January and re-issued February 10, June 26 and July 30, 2001). Prisoner of conscience Sihem Ben Sedrine was provisionally released on August 11, after six weeks in prison. She spoke to Amnesty International and expressed her gratitude to all those who had campaigned on her behalf and put pressure on the Tunisian authorities to release her.

TURKEY: EREN KESKIN AND OSMAN BAYDEMIR (UA 92/01 issued April 10, 2001). The death threats against human rights defenders Eren Keskin and Osman Baydemir stopped when this UA was issued. Both have asked Amnesty International to pass on their greetings and thanks to all who took part in this successful Urgent Action. Eren Keskin said, "I have been a human rights defender for 10 years, but it was only after Amnesty International issued the UA that for the first time the authorities proposed to protect me and my colleague. I highly appreciate the activities of the Amnesty members on our behalf and send my warmest thanks to them." The authorities have demonstrated that they took the concerns raised by Amnesty International seriously. The police, reportedly even the Anti-Terror Branch, have offered protection.


USA/NORTH CAROLINA: CHARLIE MASON ALSTON (EX 78/01 issued December 21, 2001). Governor Mike Easley of North Carolina commuted the death sentence of Charlie Alston nine hours before he was due to be executed at 2 AM on January 11, 2002. Alston had been moved to a deathwatch cell and was eating his final meal when the news came that he would not be killed. Charlie Alston, black, aged 42, was sentenced to death in 1992 for the murder of Pamela Renee Perry. He has consistently maintained his innocence of the murder and was convicted on the basis of circumstantial evidence. There was no direct evidence linking him to the crime, such as fingerprints, physical evidence or confession.


In the past week, the courts rejected appeals requesting a stay of execution on the grounds that potentially exculpatory DNA evidence was missing. Fingernail scrapings taken from Pamela Perry by the medical examiner on the assumption that these might contain blood, hair or skin cells that could identify the perpetrator, were never tested by the state which later said that it had lost the evidence. The Governor gave no reason for his decision to commute the death sentence. His statement said: "After long and careful consideration of all the facts and circumstances of this case in its entirety, I conclude that the appropriate sentence for the defendant is life in prison without parole." Charlie Alston's lawyer has sent the following message: "Thank you all for your prayers, your e-mails, your letters, your phone calls, and your support."


UZBEKISTAN: MARAT RAKHMANOV (EX 68/00 issued August 15, 2001). Marat Rakhmanov's death sentence was commuted to 15 years' imprisonment by a ruling of the Presidium of the Supreme Court of Uzbekistan on April 24, 2001. Marat Rakhmanov's sister, Mayra, accompanied by a member of the Russian embassy in Uzbekistan, went to visit him in the prison colony in Namangan to which he was transferred. She told Amnesty International on June 29 that Marat had not been informed by the authorities that his death sentence had been commuted . "They took him out of prison and didn't tell him anything. He thought he was taken to be shot. Only once he had arrived in the colony in Namangan, the other prisoners told him where he was and he understood that he might have been granted clemency... He said: I feel as if I was born a second time."

Mayra Rakhmanova said that her brother is still suffering from the severe beatings he sustained at the time of his arrest. "He lost a lot of weight, but emotionally, he is a lot more stable now. He is making plans again. I am very grateful to you. You saved my brother's life...if you hadn't helped, they would have shot him long ago...When I received your Urgent Action, I made a lot of photocopies and distributed them, gave them to everybody I asked for help." Among those that went out of their way to help, Mayra Rakhmanova said, were the Russian ambassador and his wife, the press secretary of the Russian embassy and Tamara Chikunova, the mother of Dmitry Chikunov, who was executed in July 2000 (UA 184/00, 28 June 2000 and 13 July 2000).


Mayra Rakhmanova sent the following fax on June 30:

"We thank you and all the members of Amnesty International for their help and support and for the life of M. Zh. Rakhmanov, born 1973. Your help has been priceless and our gratitude to you is immense. You helped to preserve my brother's life. We wish you good health and success in your difficult, but necessary struggle. We thank God that in such difficult and frightening times we received the support of such wonderful people. We are eternally indebted to you because life has no price."



ý ü þ


"I feel morally and intellectually obliged to simply concede that the death penalty experiment has failed … From this day forward, I no longer shall tinker with the machinery of death."
-former US Supreme Court Justice Harry A. Blackmun

---