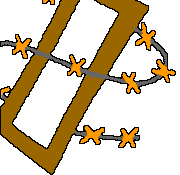 ---
FUNDS FOR FREEDOM
A Money-Making Guide for Groups and Clusters in Amnesty International USA
Drawn from the Collective Wisdom, Creativity, Energy, and Experience of Hundreds of Volunteers
Compiled by Rebecca Edwards*
WITH SPECIAL THANKS TO:
Abe Bonowitz, Marj Byler, Gary Cadd, Janice Christiansen, Elizabeth Duncan, Dee Ertukel, Tom Gill, Barbara Gubbin, Virginia Hatch, Judy Hatcher, Alice Hunsberger, Steve King, Sue Kulinyi, Rena Margulis, Jon Orchard, Marianne Philbin, Dave Potvin, Rick Roth, Edd Vasquez, Mort Winston
*First compiled in 1994. Edited and modified for on-line distribution by the amnesty-volunteer.org project in 1999. Rebecca Edwards, the original editor of Funds for Freedom, would like to make this resource a gift to the human rights community in and out of the Amnesty movement. Thus, with the exception of AI guidelines, this resource is being made available to everyone on Internet.
PDF version for download Public version | "Member Only" version
---
TABLE OF CONTENTS
I. FINANCIAL PLANNING
II. DIRECT REQUESTS
III. SELLING SERVICES
IV. SELLING MERCHANDISE
V. SPECIAL EVENTS
VI. FOUNDATION GRANTS
VII. RESOURCES AND MATERIALS
APPENDIX: RELEVANT AI POLICES AND GUIDELINES